❈ Structure and Materials
Yuehao APVC developed based on multi-layer co-extrusion technology through one-off processing, especially for corrosive substance manufacturing factories and areas with frequent acid rain. 2.3 or 4 layer co-extruded APVC sheeting materials are all available with each layer offering distictive feature
✔The first layer(surface):
The surface is made of engineering resin developed by the famous company SABIC. This special material renders the sheets with great feature of corrosion resisting and light reflecting. What's more, APVC sheet are very distinguishable at resisting weather change.
✔The second layer:
The middle layer adopts modified PVC which ensures toughness and stiffness. Meanwhile, with heat insulated material involved, APVC sheet work excellently at heat proofing and reflecting.
✔The bottom layer:
The white bottom layer is materials with outstanding abrasion durability, enabling buildings to be more spacious and brighter.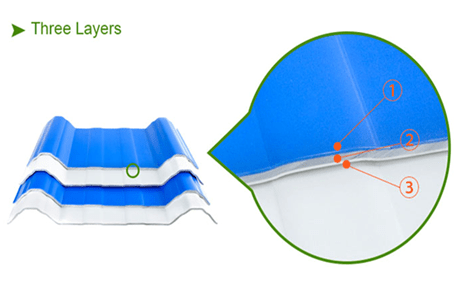 No.

Content

Unit

Standard

Result

1

Appearance quality

-----

Homogeneous color, no bubble, no crack and no visible material in surface. Clean and no rag in telos.

Eligible

Eligible

Regular wave shape for two sides' lapping

Eligible

2

Length

mm

+10

+2

Eligible

3

Width

mm

+5

+1

Eligible

4

Thickness

mm

±0.2

0.06

Eligible

5

Wave height

mm

±1.2

+0.04

Eligible

6

Wave space

mm

±2.0

0

Eligible

7

Density

Kg/m3

1000~1450

1442

Eligible

8

Tensile strength

≥20

26

Eligible

9

Elongation at break

≥20

38

Eligible

10

Falling ball impact (1kg,1.5m)

Should be no hole and crack

/

Eligible

11

Acid resistance(Volume fraction:20% NaOH,24H)

Should be no distinctive color change and no deformation

/

Eligible

12

Alkali resistance (mass fraction 20% NaOH,24H)

Should be no distinctive color change and no deformation

/

Eligible

13

Bending

≤50

12

Eligible

14

Oxygen Index

%

≥32

35