Pvc Corrugated Roofing Sheets Lasting color, light weight, own water-proof characteristic, toughness, heat insulation, sound insulation, corrosion resistance, wind resistance and quakeproof, anti-impacting, anti-pollution, green and environmentally, fireproofing, insulation and easy installation characteristics, and its beautiful appearance and strong stereoscopic impression, and Chinese-characteristic colors.

| | | | |
| --- | --- | --- | --- |
| Wave depth | 30mm | Wave space | 160mm |
| Pitch | 219mm | Width | 1050mm |
| Length | Customized by time of 219mm | Color | Customized, orange, red and gray popular |
| Surface | ASA coated | Purlins | 660mm standard |
| Thickness | 2.4-3.5mm | Warranty | 30 years for life, 10 years for color |
Synthetic Resin Roof Tile Features
² Outstanding Weathering Ability: Long time color preservation, resistance to the extreme temperatures, corrosion resistance and fire resistance.
Long time color preservation: ASA is a kind of excellent weather ability engineering resin. It can last very long lifetime in the natural environment. As the top layer of KRS Synthetic Resin tile, it can keep both the stable physical performance and chemical performance even long time at UV sunshine, moisture, high temperature and low temperature. At the same time, it can keep the vivid color long time. According to the test result in such areas with intensive UV sunlight as Arizona and Florida, the ASA color is able to last over ten years with the color change of ΔΕ≤5.
Resistance to the extreme temperature: KRS Resin Tile can maintain stable physical properties under extreme temperature conditions from -40℃ to 80℃.
Corrosion Resistance: KRS Resin tile is able to resist corrosion of various chemical substances such as acid, alkali and salt. The experiment proves that the roof tile has no chemical reaction when it is soaked in salt, alkali and various acids below 60% over 24 hours. It is much suitable application area with often acid rain and coastal areas.
Fire resistance: KRS Resin Roof Tile belongs to flame retardant material. According to the GB8624-2006 standard test, the fireproofing class is B1.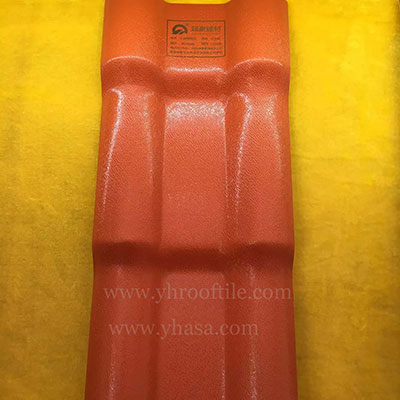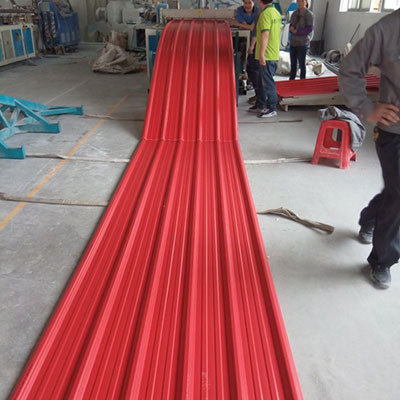 ASA synthetic resin tiles are manufactured adopting the latest materials of super weather resistant engineering resin ASA developed by World's top 500 companies SABIC, composed by one process with the advanced multiple layer co-extrusion technology.
The first layer(surface): Coating with ASA film, which render the sheet with great property of long using life span and long color lasting. And ASA materials have very distinguished performance at anti-UV, weather resistant and corrosion resistant.
The second layer: The second layer is skeleton layer. This layer is consisted of PVC materials, which is very important at insulation and corrosion resistance function of the sheet.
The bottom layer: The bottom layer is abrasion resistant. It enables sheet to be durable and tough.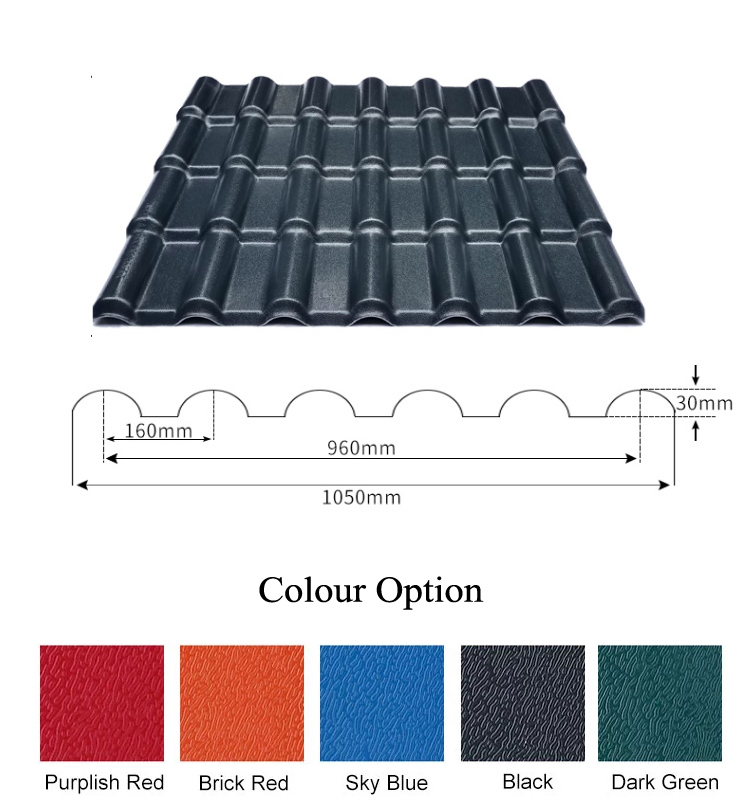 ASA synthetic resin tiles / PVC sheets are the preferred choice for a variety of applications in residential, industrial and commercial construction.